Memorial Items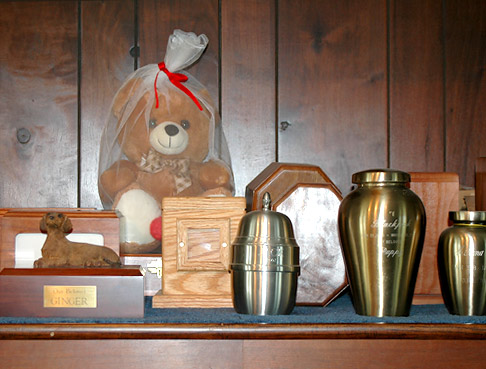 Custom Urns
Just because your pet has passed, it doesn't mean that they cannot still be a part of your life—memorialize your pet by providing them with a custom urn as a final resting place. Angel Refuge Pet Cemetery & Crematory Inc. offers a range of custom urns in different shapes, sizes and materials. Also, feel free to visit our casket display and viewing room and a considerate and helpful staff member will be glad to discuss urn options and pricing with you.
Caskets and Markers
The cemetery grounds at Angel Refuge Pet Cemetery & Crematory Inc. are a calm and welcoming place for your pet's final resting place. Along with burial services, we offer a range of custom caskets, as well as several types of markers. We want you to be able to visit your former companion whenever you'd like, and to that end, caskets and markers are all offered within an affordable price range that best suits your needs and budget.
Commemorative Items
Losing a loyal companion is a difficult time for any pet owner. It can be comforting and reassuring to hold on to a keepsake of your pet so they are never truly forgotten. We are happy to offer several types of memorial items that contain a part of your pet's cremains.