Newsletter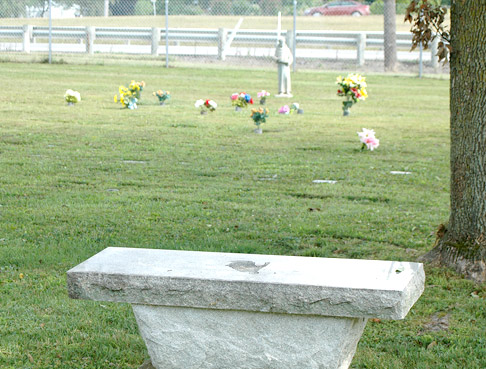 The staff at the Angel Refuge Pet Cemetery & Crematory Inc. are pleased to provide you with an online newsletter. This fact-filled newsletter is updated on a regular basis.

Included in the newsletter are articles pertaining to memorial and burial services, end-of-life care, grief counseling and more.
Current Newsletter Topics
Burial Options for Your Beloved Pet
How you wish to handle your pet's remains after death is a personal choice dependent on many factors. Although cremation has become a popular option, other pet parents still prefer burial – either at home or in a nearby pet cemetery. Burial provides the bereaved with a sacred spot where they can go to visit with their deceased companion. It also allows the owner to feel that his or her pet is still present, still at home and not soon to be forgotten.
A burial site can be adorned with flowers, a personalized headstone or grave marker, or even a statue. Many pet parents will plant a flower or tree atop their pet's grave, or bury their pet beneath an existing and protective tree or shrub.
The Options
Home Burial
Home burial is not always an option. For pet owners who rent, move frequently, or live in an urban area, it may not make sense or it may be forbidden or illegal. Many cities prohibit home burials because of the potential hazard it may cause to public health.
If you do opt for home burial, ensure that your grave site is in an area that won't be disturbed, is at least three feet deep, and that your pet's body is wrapped in or placed in something which is biodegradable.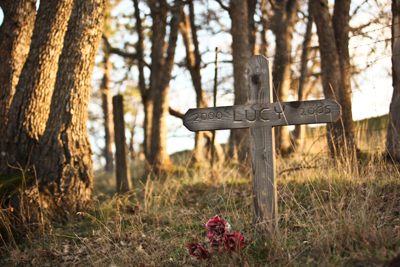 Pet Cemetery Burial
Some pet owners prefer the formality of a cemetery burial – with or without an accompanying service. Others simply do not have the space of their own to bury a pet at home. Having your pet's remains buried in a pet cemetery comes with the assurance that the grave site will always be cared for and will never be disturbed. This can be reassuring for older pet parents or those who may move in the future and not be able to relocate their pet's remains.
Burial in a cemetery comes with many options for headstones and other decorative add-ons for your pet's grave or casket. Additionally, many companies exist that can pick up your pet's remains and help make arrangements for a complete funeral and memorial service if that is what you desire. Most states have several pet cemeteries. To locate the one nearest you, consult with your veterinarian or visit the International Association Of Pet Cemeteries & Crematories or the Pet Loss Professionals Alliance websites.
Crematory Options for Your Cherished Companion
How you wish to handle your pet's remains after death is a personal choice dependent on many factors. While some pet parents still prefer burial, cremation has become the most popular option. This may be because more people are renting or living in urban areas where home burial is often prohibited. Some believe that a body is merely a receptacle for a spirit and that more attention should be placed on honoring the memory of a pet than on its remains.
Whatever your beliefs may be, cremation offers the bereaved the option of having a pet's remains returned. They can be kept in a keepsake urn or spread somewhere sentimental. Some veterinarians perform crematory services or there are many crematories who cater just to pets. Since it has become so popular, there are several affordable options.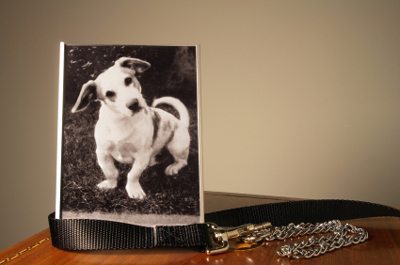 Private & Viewing
A private cremation ensures that your pet will be cremated alone and that the ashes you receive will be solely his or hers. Viewing cremations are sometimes possible, where you and your family can witness the process from a separate viewing room. This often provides the bereaved with the reassurance they their pet's remains were treated properly and with respect.
Semi-Private
In a semi-private cremation, several deceased pets are placed in the same chamber and divided by a partition. While the majority of the ashes you receive back should be those of your pet, some co-mingling of ashes does occur. Be sure to clarify which option you desire (and are paying for) as semi-private is sometimes labeled as private.
Communal
If having your pet's ashes returned to you is not something you desire, a communal cremation may be the best option. It results in the co-mingling of several deceased pets' ashes who are cremated together without any partitions separating the bodies.
Helping Pets in Grief
Although it isn't known for sure if pets grieve the loss of an animal or human companion in the same way humans do, many do express their awareness that something has changed. Depending on how long your pets spent together and what their relationship was like, a death can create a significant void within the home that your surviving cat or dog may notice.

Symptoms of Grief

The ASPCA studied pet behavior after the loss of a pet companion during the nineties and found that 66 percent of dogs exhibited four or more behavioral changes. Some of these changes included:

• Loss of appetite
• More needy for attention
• More or less vocal than normal
• Restless during sleep
• Searching for deceased pet
• Wandering aimlessly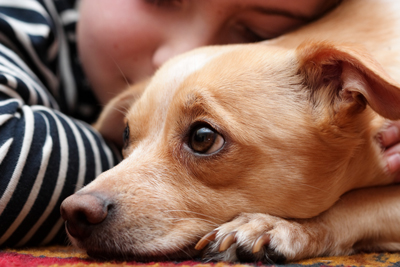 Allowing Your Pet to Say Goodbye

Many pet owners will attest to the searching behavior their surviving pets seem to exhibit after the death of a companion. When a friend suddenly leaves the house and doesn't return, he or she may anxiously wait for their return or search the house and yard hoping to find them. It has been suggested that allowing your pet to see the deceased pet's body can help him or her understand what has happened.

During this visit, your pet may: sniff, paw at, or try to "bury" the body; lay beside it; howl or whimper; invite play by bringing over a toy; or do nothing at all.

If letting your pet say goodbye in this way is not possible, consider clipping a lock of your deceased pet's hair for your surviving pet to smell. If your pet is showing any signs of grief, provide plenty of extra love and attention.
Coping with Pet Loss and Grief
Sadly, everyone who cares for a pet will one day face the illness, old age or passing of their beloved animal friend. It is as natural and necessary to grieve for the loss of a pet as it is for any loved one who dies. And it is important to have compassion and support in one's time of grief. While grieving is an internal and private response, there are certain shared processes that most people experience. By understanding the grieving process, you will be better prepared to manage your grief and to help other family members who are also experiencing the pain of loss.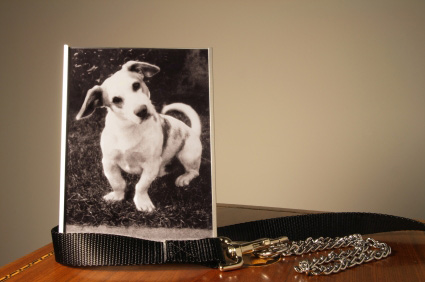 The Stages of Grief
There are many signs of grief, but not everyone experiences them all or in the same order. You may experience denial, anger, guilt, depression, acceptance and resolution. Your first reaction may be denial... denial that the animal has died. Denial is frequently the first stage of grief and is a normal coping mechanism that helps us cope with the loss. This reaction may occur even before death, when you first learn the extent of your animal's illness or injuries. Often, the more sudden the death, the more difficult the loss is to accept.
Anger and guilt often follow denial. This anger can be directed toward people you normally love and respect, including your family and your veterinarian. People will often say things that they do not really mean, perhaps hurting those whom they do not mean to hurt. You may feel guilty or blame others for not recognizing the illness earlier, not doing something sooner, not being able to afford other types of treatment, or for being careless and allowing the animal to be injured.
Depression is also part of the range of emotions experienced after the death of a loved animal. This is the period when you usually feel the greatest sense of loss. The tears flow, there are knots in your stomach and you feel drained of all your energy. Day-to-day tasks can seem impossible. Sometimes you may even ask yourself if you can go on without the animal. The answer is yes, but there are times when special assistance may be helpful.
Acceptance of a new reality is a sign that we are ready to move forward. Eventually, you will come to terms with your feelings. While you will still feel the pang of loss, you can begin to resolve and accept your pet's death. When you have reached resolution and acceptance, the feelings of anger, denial, guilt and depression may reappear. If this does occur, the intensity of these feelings will be much less, and with time, these feelings will be replaced with fond memories.
Although the symptoms of grief are felt whether the loss is of an animal or a human loved one, grieving is a personal process. Some people take longer than others to come to terms with denial, anger, guilt or depression, and each loss is different. If you understand that these are normal reactions, you will be better prepared to cope with your own feelings and to help others face theirs. Family and friends should be reassured that sorrow and grief are normal, natural responses to death. They may not understand. Well meaning family and friends may not realize how important your animal was to you or the intensity of your grief. Comments they make may seem cruel and uncaring. Be honest with yourself and others about how you feel. If despair mounts, talk to someone who will listen about your pet and his/her illness and death. Talk about your sorrow, but also try to recall the fun times you and the animal spent together, the activities you enjoyed and the memories that are meaningful.
If you or a family member has great difficulty in accepting your animal's death and cannot resolve feelings of grief and sorrow, you may want to discuss those feelings with a person who is trained to understand the grieving process and who understands the pain associated with losing a pet. Your veterinarian certainly understands the loving relationship you have lost and may be able to suggest local animal loss support groups and hotlines, grief counselors, clergy, social workers, physicians or psychologists who can be helpful. Talking about your loss will often help ease your pain and comfort your heart.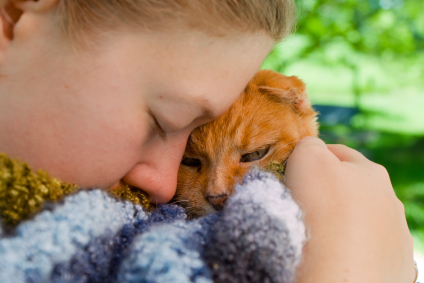 Informational links to pet loss support groups are included here for your reference.
Pet Loss Information and Support Hotlines
Pet Loss Support Hotlines
The American Society for the Prevention of Cruelty to Animals (ASPCA)
National Pet Loss Hotline
(212)876-7700, ext. 4355
http://www.aspca.org/pet-care/pet-loss/
C.A.R.E. Helpline for Companion Animal Related Emotions
University of Illinois
College of Veterinary Medicine
(217) 244-CARE (2273)
http://vetmed.illinois.edu/CARE/grief.html
The Chicago Veterinary Medical Association
Pet Loss Support Hotline
(630) 603-3994
http://www.chicagovma.org/petlosssupport#.UcrkWJwQV8E
Pet Grief Support Service
Companion Animal Association of Arizona, Inc.
(602) 995-5885
http://www.caaainc.org/petgriefsupport.htm
Pet Loss Support Program
Michigan State University
College of Veterinary Medicine
(800) 565-1526
http://cvm.msu.edu/alumni-friends/information-for-animal-owners/pet-loss-support
Pet Loss Support Hotline
Iowa State University
College of Veterinary Medicine
(888) 478-7574
Pet Loss Support Hotline
Tufts University School of Veterinary Medicine
(508) 839- 7966
http://www.tufts.edu/vet/petloss/
Pet Loss Support Hotline
University of Florida
College of Veterinary Medicine
(352) 392-4700, ext. 4080
http://smallanimal.vethospital.ufl.edu/resources/pet-loss-support/
Pet Loss Support Hotline
Cornell University
College of Veterinary Medicine
(607) 253- 3932
http://www.vet.cornell.edu/Org/PetLoss/
The Ohio State University
Pet Loss Hotline
College of Veterinary Medicine
(614) 292-1823
http://vet.osu.edu/vmc/pet-loss-support-hotlines-and-helplines
Pet Loss Support Hotline
Virginia-Maryland Regional College of Veterinary Medicine
(540) 231- 8038
P.A.T.S. Pet Loss Support Hotline
Pacific Animal Therapy Society
(250) 389-8047
http://patspets.ca/wordpress/pet-loss-and-bereavement